Ask Me Anything: Raising Your First Startup Investment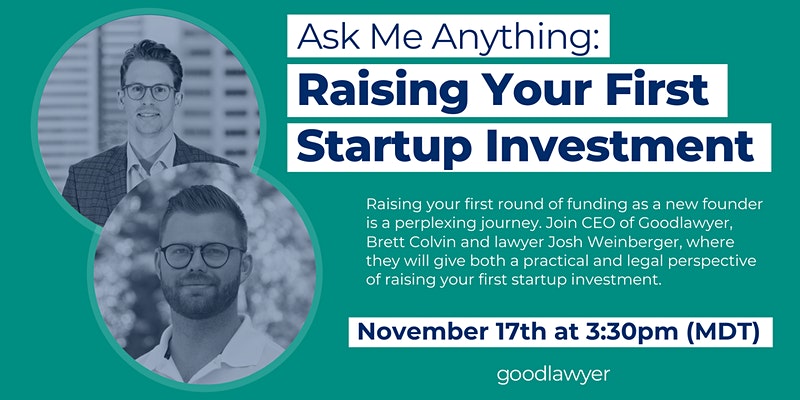 Zoom Webinar
Join us to learn the secrets of Goodlawyer's financing history, including legal & practical tips on how you can raise your first investment!
About this Event
Let's face it; you have a million and one things to do to grow your business. Maybe you are looking for product-market fit, trying to attract investors for another round of funding, or still building your MVP. At any stage, you must keep yourself and your business protected. That is where your Lawyer in shining armour comes in; meet Goodlawyer.
So, take a breath and brew yourself a cup of coffee and virtually sit down with our special guest, CEO and former Lawyer, Brett Colvin, for a "Ask Me Anything" forum.
What to Expect:
To celebrate Innovation Week, we will be having a special appearance from our CEO , Brett Colvin, and lawyer Josh Weinberger, where they will give both a practical and legal perspective of raising your first startup investment. Raising your first round of funding as a new founder is a perplexing journey that can be a daunting, frustrating, and time-consuming experience. As innovative thinking becomes more and more critical during the uncertainty of COVID-19, we will explore the current Do's and Dont's of raising money and the strategies Brett has used over the past two years that have helped him create Goodlawyer.
Register here 
More about Innovation Week:
Now more than ever, innovative thinking has become a necessity for navigating through the COVID-19 pandemic. At Goodlawyer, we are reimaging what the landscape of law looks like in Canada through leveraging technology to make the practice of law better and more efficient. Too many people and businesses go without the legal help they need because they simply can't afford it. By streamlining the customer experience, we're helping everyone get access to quality, affordable and transparent legal services. Through ingenuity, creativity, persistence and a whole lot of teamwork, Goodlawyer is invested in building the small business and startup community. Join us November 16th-20th in recognizing and celebrating Canadian Innovation online and use #CanadianInnovationWeek.